To highlight our newly integrated services by joining TCE and Vermont Underground Locators (VTUL) more closely together, we're offering a 30% discount on utility locating services, including utility mapping for the first 25 people beginning March 1st!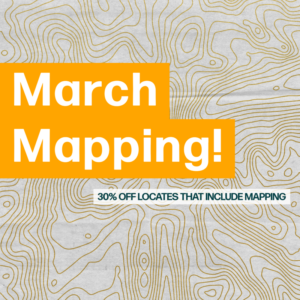 TCE and VTUL have worked under the same umbrella for years now, but we've recently brought the two closer to provide a wider variety of services to each client base with much more ease for clients and our staff! In order to celebrate this, we wanted to offer something to everyone who has continued to make it possible for us to grow and thrive.
So as our "thank you" to you – we're offering a 30% discount to the first 25 people who are interested in a map with your locate for the month of March!
In addition to the ground markings that come with locating, we're also including our mapping services with each locate. You'll get a visual map report that will show where all the utilities are located, which can be provided in PDF or even AutoCAD format depending on your needs.
To learn more or schedule a locate, call us today at 802-879-6331 ext. 125 or get started online (please note this link will take you to the VTUL website)
*Offer expires 3/31/2023