TCE has enjoyed an exciting year of growth, and we are proud of the team members that have come on board recently. Over the next few weeks we'll be introducing them all with a spotlight feature as a show of our appreciation and to let our clients and the public know a bit more about the amazing staff here at TCE.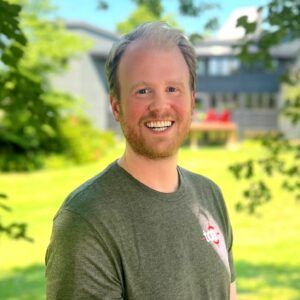 Next up in our Staff Spotlight Series is Dan Heil, PE. Dan joined TCE in May of this year as an Engineer V and Project Manager, and quickly became a valued and integral member of the team. Dan has over 14 years of land development experience in both Vermont and the DC, Maryland, and Virginia area. He has been involved in projects of all types, including commercial, municipal and residential projects. From large scale, mixed-use development, to single lot infill development, he brings a wealth of knowledge to TCE that we greatly appreciate.
Dan is a member of both the American Society of Civil Engineers (ASCE) as well as the Institute of Transportation Engineers (ITE), and earned his BS of Civil Engineering from Virginia Polytechnic Institute & State University (Virginia Tech). He has a strong background in site development, grading, stormwater management, and the permitting process. With local and State regulations ever evolving and becoming more complex, he believes communication is paramount in a successful project. Some of his other key skills include project management, construction administration, water and wastewater permitting, and erosion and sediment control.
As a native of Vermont, and with roughly 8 years of experience working in the area, Dan is familiar with the complexities land development can present. He has been responsible for many residential and commercial developments across the state, and works directly with clients to understand their development vision while guiding them through the conceptual, design, permitting, and construction process. He recognizes that every project is unique, and educates the client on local and State regulations to help bring their development vision to reality. Some of his recent projects include a 45-unit residential development in Colchester, a 60,000 square-foot commercial building in Milton, and a large-scale mixed-use development located in Williston's growth center.
Dan was raised in Essex, VT and still resides there with his wonderful wife and two young children. Outside of work Dan enjoys getting outside camping, skiing, swimming, kayaking and playing with his kids. We're so grateful to have Dan as a core member of our TCE team!