TCE has enjoyed an exciting year of growth, and we are proud of the team members that have come on board recently. Over the next few weeks we'll be introducing them all with a spotlight feature as a show of our appreciation and to let our clients and the public know a bit more about the amazing staff here at TCE.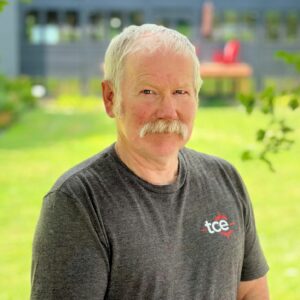 Next up in our Staff Spotlight Series is Douglas Henson, LS, EI or "Downstairs Doug" as he's known around the office. Doug joined us in May of this year as TCE and Lamoureux & Dickinson (L&D) joined forces, and we're couldn't be more excited to have him on the team. He brings over 30 years of valuable experience with him having worked at L&D since 1988. There, Doug was responsible for coordinating teams involved in field surveying and land record research, construction layout, design, analysis, and permitting of various projects throughout Vermont. He has performed property surveys and land record research across the state, and his work has also included preparing design plans, construction documents, and assisting with local, state, and federal permits and approvals.
Doug acquired a BS in Agriculture from the University of Vermont in 1984, and is a member of the Vermont Society of Land Surveyors, or VSLS for short. As a Licensed Land Surveyor, he has worked with all types of clients, from commercial to residential to municipal. Some of his notable work includes designing several mile long bike paths in Burlington, Colchester and Newport, bringing enjoyable recreational options to the cities.
Also impressively, he performed extensive land record research and field surveys to reestablish the original town line between the Towns of Brookfield and Roxbury. That project included the innovative use of then-new GPS survey technology to efficiently survey over long distances.
Having been raised in Orleans, Massachusetts, after graduating from UVM he has been a longtime resident of Hinesburg, where he lives with his wife Shelley and two cats, both of which belong to their daughters. He has established ties to Chittenden County, and over the years, Doug has willingly volunteered his many talents to be involved in his community, having served as a 10 year 4-H leader, as well as other 4-H related boards and committees, and his local Boyscout troop by helping some of the members earn their surveying merit badge. In his spare time he enjoys sailing, hiking, yardwork, sailing, snowshoeing, hunting, woodworking, and visiting his three daughters and his 90 year old mother in Florida. And did we mention sailing?