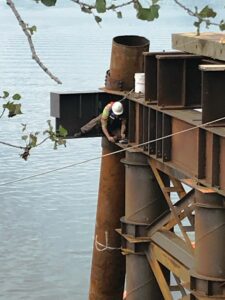 TCE's survey crew has been working on some especially fascinating and challenging projects recently. If you've travelled along US Route 2 from Grand Isle to North Hero, then you've probably noticed the work going on alongside the road and out into the lake. Well, our Crew Chief and extraordinary layout guy, Brad Perry, has been on assignment almost daily helping the General Contractor, Cianbro, build a temporary bridge to make way for a new drawbridge that will take almost two years to build. As you might expect, our construction sites aren't usually in the middle of a lake! So, Brad has overcome all types of challenges to help keep the work going smoothly and make sure the temporary bridge pieces fit together.
It might look precarious, but don't worry- he's strapped in, secured, suited up, safe, and luckily not afraid of heights. The last bridge Brad worked on, Interstate 89 over the Lamoille River, was much higher than this one, so this isn't his first time balancing over the water.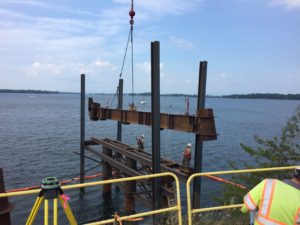 To be efficient with this project, the contractor is building the temporary bridge from both ends at the same time, and then joins them up in the middle. So every piece has to fit perfectly. That's where Brad comes in – he helps ensure the giant steel pieces all fit. Surveyor Andy Lambert said it's like a really big game of Erector Set, so if you loved that game, maybe bridge building or surveying is your calling!
For more information on this exciting project, check out the State's website: http://nhgi.vtransprojects.vermont.gov/