The 2023 Best of Business awards voting is open!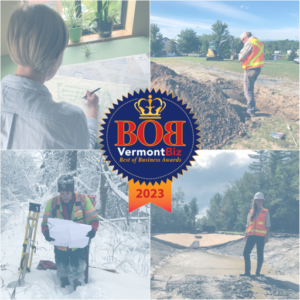 It's that time of year again! Vermont Business Magazine's Best of Business awards are open for voting for 2023; where you can vote for your favorite local business in categories from Best Bank to Best After-Work Bar.
TCE has had the incredible honor of winning Best Engineering Firm for the past 3 years, which is entirely thanks to our fantastic clients that we've had the pleasure of working with for nearly 50 years.
We take great pride in what we do, and work hard to give our clients the best service we possibly can. Everyone here at TCE strives to provide the best engineering services in Vermont, and we're proud to say that the people we've worked with have felt the same the past three years!
Thank you to everyone who believes in us and helped us be Vermont's Best Engineering Firm in 2020, 2021, and 2022! Now we need your help to keep that honor going in 2023.
We hope you will take the survey and vote for TCE – we are on page 3. Voting is currently open, and runs until March 1st.