Why is this important? In Vermont the seasons change quickly, and if you have a project that involves wetlands it's important to get that identified before the "official growing season" ends, or the project could face significant delays or not be able to even start until next spring (typically in mid-May).  The Vermont Wetlands Program recently issued the 2020 estimated growing season end dates by County using information compiled by the Natural Resource Conservation Service (NRCS).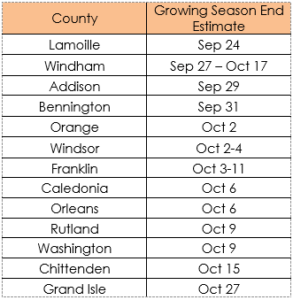 *Note that actual end dates depend on local conditions and landscape factors
In addition to having to schedule and perform the wetlands work for a project we also need to confirm them with the State Wetlands Office which has limited staff.  So, please call today if you have a project you were thinking of working on later this fall or winter so we can coordinate the work and get it done before it's too late. TCE has two wetland scientists on staff to help assist you with your project as well as engineers, surveyors, and other technical staff to make sure your next project goes smoothly.   What happens if you miss the deadline? Don't worry we can still do winter assessments (unless the snow is over our heads) and in some cases that may suffice until we can confirm the project wetlands next spring.