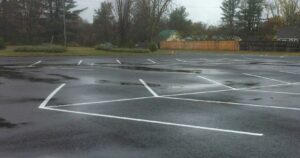 In September of 2022 the State of Vermont issued General Permit 3-9050, or as it is sometimes called, the 3-Acre Permit. This was a huge change for how Vermont is handling permitting for stormwater runoff from impervious surfaces, and the beginnings of the new process began in December of that same year. As a reminder, or for those who are unfamiliar, sometimes even grassed parking areas and drives. Part of the large difference with the 3-9050 permit being in place is that sites that previously weren't required to undergo a permit process would now fall under the new criteria for impervious surface coverage. In order to accomplish permitting under the new regulations, a long-term implementation strategy with staggered goals was created.
Back when the new 3-Acre permit was introduced, TCE wrote an explanation of the permit and changes that landowners could expect to see. Given a significant new update that came into effect this past July, we'd like to update everyone on what the new amendment means for you. The State of Vermont has stated that effective July 1st, 2022, a discharge from a new development or redevelopment equal to or greater than ½ acre is eligible for permit coverage under 3-9050. Prior to that date the jurisdictional trigger was 1 acre, so that's a sizeable difference for those looking to develop new sites or redevelop existing ones.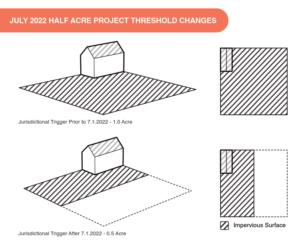 However it's important to note that there are four Transition Exemptions to this new requirement that the State has noted on their website as of now. The definitions of which sites fall under compliance and which could potentially qualify for an exemption can be tricky to tease apart, especially as changes continue to occur in the permitting landscape of Vermont. TCE's staff of excellent engineers who are experts in permitting are ready and happy to help any landowners with navigating these and future changes. Feel free to reach out to us anytime regarding your new or redevelopment project if you believe it may fall under this new ½ acre jurisdiction, or to chat about any of our other land services we could offer to your site.