TCE has enjoyed an exciting year of growth, and we are proud of the team members that have come on board recently. Over the next few weeks we'll be introducing them all with a spotlight feature as a show of our appreciation and to let our clients and the public know a bit more about the amazing staff here at TCE.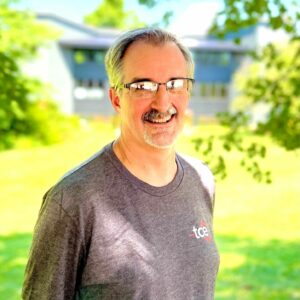 Next up in our Staff Spotlight Series is Douglas Goulette, PE or "Doug G" as he's known around the office. Doug joined us in May of this year as TCE and Lamoureux & Dickinson (L&D) joined forces, and we're delighted to have him on the team. He brings over 30 years of valuable experience with him having worked at L&D since its founding in 1985. There, Doug was responsible for coordinating teams involved in surveying, layout, design, analysis, and permitting of numerous projects throughout Vermont. His work includes preliminary studies, preparation of design plans and construction details, assistance with permit applications, and follow-up to local, state, and federal permits and approvals. He has extensive experience with the design of both private and municipal sewer, water, and stormwater distribution systems across the state.
Doug acquired a BS in Civil Engineering from the University of Vermont in 1983, and is a member of the American Society of Engineers as well as the Vermont Society of Engineers. In addition to his impressive list of skills above, Doug also has extensive experience in providing construction engineering services including bid services, construction observation, contract management, and review of shop drawings and material submittals.
Having worked with all types of clients, from commercial to municipal and residential, Doug's project history is substantial. Notably, he has worked on several water main replacements which involved design, permitting, bid documents and construction engineering for a water main as well as services replacements.
Having been raised in Barre, after graduating from UVM he has been a longtime resident of Williston, where he lives with his wife De. He has established ties to Chittenden County, and over the years, Doug has willingly volunteered his many talents to be involved in his community, having served as a Solid District representative for Huntington for a time, Vice President of his neighborhood HOA, and Chairman of the HAAC in Williston. In his spare time he enjoys hiking, yardwork, snowshoeing, hunting and fishing, and visiting his three sons all living in New England.