TCE has enjoyed an exciting year of growth, and we are proud of the team members that have come on board recently. Over the next few weeks we'll be introducing them all with a spotlight feature as a show of our appreciation and to let our clients and the public know a bit more about the amazing staff here at TCE.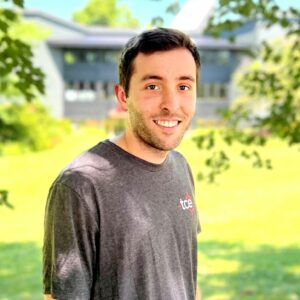 Next up in our Staff Spotlight Series is Eric Licho. Eric joined TCE in January of this year as an Environmental Engineer after working with Environmental Restoration in Williston. He attended the University of Vermont and received two B.S. degrees there; one in Civil & Environmental Engineering, and one in Environmental Studies. His background includes environmental restoration and emergency response, which included projects ranging from small scale residential to large scale EPA sites. These projects typically involved the removal of gases, oils, and other hazardous materials and restoring the environment to its natural state. His experiences made him an excellent candidate for our Environmental team here at TCE.
Since coming on board, Eric has been involved in projects of all types, including commercial, municipal, and residential projects. His focus since starting with TCE has been learning state and federal regulations around wetlands, Act 250 and wetland permitting, and stormwater design. His environmental work includes identifying wetlands to assist in land developments for clients of all varieties, including residential and commercial. Following Vermont Wetlands Program and Army Corps of Engineers guidelines, Eric will work to delineate and map wetlands which informs land development and permitting.
Eric's day to day isn't limited to our environmental department. His civil engineering background lends to his work with Act 250 Land Use permitting, which requires a wide breadth of research to satisfy all 10 criteria. Permitting is of utmost importance when working in Vermont, and being well-versed in their nuances is a key skill for our staff.  Eric's already impressive list of skills also includes stormwater treatment practices for residential and commercial projects, without which could lead to adverse impacts to the natural and built environment.
Eric was born and raised in Waban, MA, where he remained until moving to Vermont for College in 2014. Eric now resides in South Burlington, VT with his wife and dog. Outside of work, Eric enjoys mountain biking, skiing, and racetrack driving. We're so grateful to have Eric as a core member of our TCE team!