In honor of Mother's Day, TCE would like to highlight and celebrate the professional women everywhere who strive every day to produce high quality work in industries primarily dominated by men.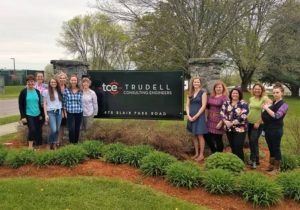 According to the Society of Women Engineers, 25% of female engineers leave their field after age 30, while only 10% of their male counterparts leave. Additionally, the US Bureau of Labor Statistics reported that in 2016 only 10% of civil engineers were women, 10% of drafters were women, and 7.5% of surveying and mapping technicians were women. At TCE, we take pride in different numbers and promoting women engineers, scientists and surveyors and more broadly Science Technology Engineering and Math (STEM).  Of TCE's current 26 full time employees, 50% are women working across all disciplines and departments. TCE has licensed professional engineers, environmental scientists, ecologists, GIS analysts, surveyors, CAD technicians, operations managers, and administrative positions filled by women that perform while in some cases balancing their other full time job of being a mom.
 At the highest level of the organization, our senior leadership team at TCE is also comprised of 50% women.  Jenn and Abby, both professional engineers, and senior project managers handle an enormous work load while Karina, a Professional Wetland Scientist, leads our Environmental division. Lori is our Operations Manager and oversees our award winning wellness program. All of these remarkable women are mothers, go-getters, and wonderful role models for our future generations; TCE is grateful for their contributions to our firm and their professions.
 At the technical level, 50% of our CAD staff is female and Mona is fast approaching her 20th anniversary here at TCE.  Amanda, our newest engineering mom in the office, and Andrea, our stormwater and GIS guru, are two examples of highly talented and ambitious young staff engineers and we are so excited to see them grow! Our newest hires, Brittany and Nicole have joined the company in environmental and surveying and have quickly proven to be valuable new members to our staff. Lori, Lindsay, Cathy, Wendy and Bekah provide daily support in operations, administration and management and keep the TCE gears running smoothly.
 Since 1975, our firm has strived to produce high quality; efficient designs that serve our clients' needs and add value to their projects.  At TCE we recognize and celebrate the accomplished professional women in STEM who work here and around the world.  A $500 donation to the Society of Women Engineers K-12 Outreach Program has been made in celebration of the 13 current women employees at TCE. http://societyofwomenengineers.swe.org/index.php/k-12-outreach