In the State of Vermont, a septic system can be legally determined as "failed" and in need of replacement if one of two things is occurring:
wastewater is backing up into the house, or
wastewater is surfacing on the ground.
While those events certainly indicate a problem with the system, there can sometimes be a smaller issue that doesn't require an entirely new septic system be installed. TCE is happy to work with you to attempt to determine if your septic system has failed, or if there is a simpler issue that can be repaired.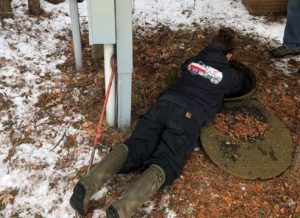 Recently one of TCE's wastewater experts had a call from a client with this exact conundrum. Wastewater was backing into the utility sink in their home, so the client had one of two options: the first is to presume failure since they met the criteria, and have a new septic system designed and installed (which can be tens of thousands of dollars), or the other possibility was for us to work with a septic service company to investigate the problem for a simpler solution. If it does turn out to be truly failed, our on-site engineer would turn that day of field work from investigation of the existing system to test pits for a new system. However, if the problem requires a simple fix, the client can save tens of thousands of dollars by avoiding installing a new system they didn't need.
While it could cost up to a few thousand dollars investigating the system just to find out it is failed, they decided to investigate further and potentially save tens of thousands more. TCE's engineer worked with a local septic service company to investigate by pumping the overfull septic tank, jetting and camera inspecting the discharge pipe, and scoping out the problem.
We quickly discovered that the carrier pipe from the septic tank to the disposal field's distribution box had corroded, collapsed, and clogged. The leach system lines were found in good condition though. TCE's engineer coordinated the simple repair of these pipes with the septic company and the client, and saved the client tens of thousands of dollars.
TCE understands septic systems; how they fail, if they can be fixed, and when it's appropriate to replace them. While some fixes will not be as simple as above, TCE's septic system experts provide these investigation services to solve septic problems efficiently and with minimal cost and disruption. TCE works with reputable septic service providers who are capable of making repairs, observing pipes with camera technology, cleaning, and pumping on the spot; ensuring productivity on each job.
If this sounds like something you may need, we provide an hour of free consultation to assist with hammering out the details. Give us a call today at 802-879-6331 to get your next project started.