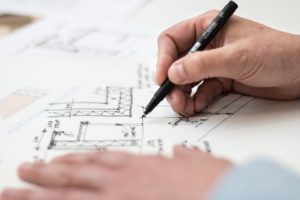 Have you thought about adding on to your Vermont home? Maybe you want to build an addition or accessory apartment, or even just convert an office to a bedroom. If you're asking yourself, "Do I need a permit to add a bedroom?" or "Can my septic system handle that?"  We get these type of inquiries a lot and can help you navigate the complexities of permitting in Vermont.
First and foremost, almost every situation is unique, and the requirements can vary depending on the town you live in and when the home was built, but in general almost every modification involving either adding a bedroom or an accessory apartment (dwelling unit) requires a permit – and sometimes more than one. Depending on your site, there could be building permits, zoning permits, use changes; even Act 250 permits may be required. Before you hire a contractor to do the work; you should consult with a professional civil engineer.  In almost all cases in Vermont adding or converting a bedroom requires wastewater permitting.
The basis of design in obtaining a wastewater permit in VT primarily depends on sleeping spaces and/or living units. Perhaps surprisingly, bedrooms are a larger factor than bathrooms. After all, one person with three bathrooms will produce the same amount of wastewater as one person with one bathroom. However, the more sleeping spaces a home has means that the wastewater system has to be capable of handling more people living in the home, and each person determines the amount of water consumption and wastewater production. Of course, depending on the town, there could also be local permits required for the extra bedroom or unit too. Likewise, an accessory apartment/separate living unit (often called an in-law apartment) will have different parameters than just adding a bedroom to an existing home.
There are two different types of waste disposal: either a municipal connection to a wastewater treatment plant or a septic system. For a municipal wastewater connection the process tends to be simpler. For a septic system, you would need a Vermont wastewater permit in addition to local permits, which can be a more complicated and extensive process, and in many cases an upgrade is needed to accommodate the additional design flows. Septic systems also are more sensitive to what you flush; or if you have a garbage disposal.
Lastly, existing permits can contribute to the complexity of a project. If, for example, the home is part of a subdivision or has an Act 250 Land Use Permit, it's possible there could be permit conditions or other restrictions you need to be aware of.  So, when we consult on a project we ask a lot of questions, and research the history of the site to make an educated determination as to what is needed.
TCE's design and permitting experts are always happy to help navigate the various permitting needs adding on to your home might create, and we offer up to an hour of free consultation if you aren't sure where to start. So please feel free to contact us via email williston@tcevt.com or call us anytime at (802) 879-6331.