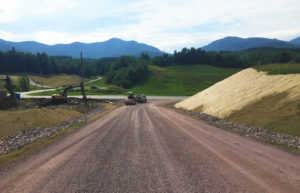 Many people consider subdividing land, but since permitting in Vermont can be challenging, the prospect of subdividing can be overwhelming.  TCE assists VT landowners with everything from subdividing off a single lot from an existing parcel, to the purchase of a large tract of land with plans to create a new residential community. TCE's engineers, planners, and surveyors are well-equipped to provide all of the services needed to subdivide a property.
The first step is typically a thorough review of State and Local regulations as they relate to the proposed development.  Feasibility studies are often helpful during the preliminary planning stage and may include a comprehensive local zoning review, wetland assessment, or conceptual layouts.  Once we determine if the project is viable, we can proceed with services including boundary and topographic surveys, and subdivision plats as well as wastewater, stormwater, and erosion control design and permitting.
TCE can provide up to an hour of free consultation services to discuss your project.  Give us a call today at (802) 879-6331!